Felipe Fierro wins the 2021 Musclecontest Brazil Pro! Get the full results here.
The 2021 Musclecontest Brazil Pro was the most recent contest to hand out a qualification to the 2022 Olympia. Competitors from five divisions gathered in Brazil hoping to earn the chance to compete during the biggest competition of the year.
The highlight of the night was the Men's 212 category where Felipe Moraes took the first place spot against competitors such as Fabricio Moreira (2nd) and Felipe Fierro Lobos (3rd) among others. Other categories in competition were Classic Physique, Men's Physique, Bikini and the relatively new Wellness division.
The full results have been announced from the 2021 Musclecontest Brazil Pro. There are five new athletes who will be on stage next December during the Olympia. Checkout the full results from the show along with the official score cards below!
2021 Musclecontest Brazil Pro: All Division Winners
Men's 212: Felipe Moraes
Classic Physique: Coming soon!
Men's Physique:Vinicius Mateus
Bikini: Cristiane Silveira
Wellness: Francielle Mattos
2021 Musclecontest Brazil Pro Breakdown
Men's 212
First Place — Felipe Moraes
Second Place — Fabricio Moreira
Third Place — Felipe Fierro Lobos
Fourth Place — Andre Luiz Dos Santos
Fifth Place — Christyan Adonay Gomez Ramos
Sixth Place — Peter Ciccone
Classic Physique
Coming Soon!
First Place –
Second Place –
Third Place –
Fourth Place –
Fifth Place –
Sixth Place –
Men's Physique
First Place — Vinicius Mateus
Second Place — Diogo Montenegro
Third Place — Carlos De Oliveira
Fourth Place — Rafael Oliveira
Fifth Place — Anderson da Silva Arruda
Sixth Place — Rodrigo Oliveira
Bikini
First Place — Cristiane Silveira
Second Place — Gessica Brun
Third Place — Halanna Jully
Fourth Place — Mirian Barbosa
Fifth Place — Herlayne Braga
Sixth Place — Ana Paula Baggio
Wellness
First Place — Francielle Mattos
Second Place — Angela Borges
Third Place — Rayane Fogal
Fourth Place — Rafaelle Zen
Fifth Place — Laleska Bruschi
Sixth Place — Carolina Santana Nunes Vila
2021 Musclecontest Brazil Pro Official Score Cards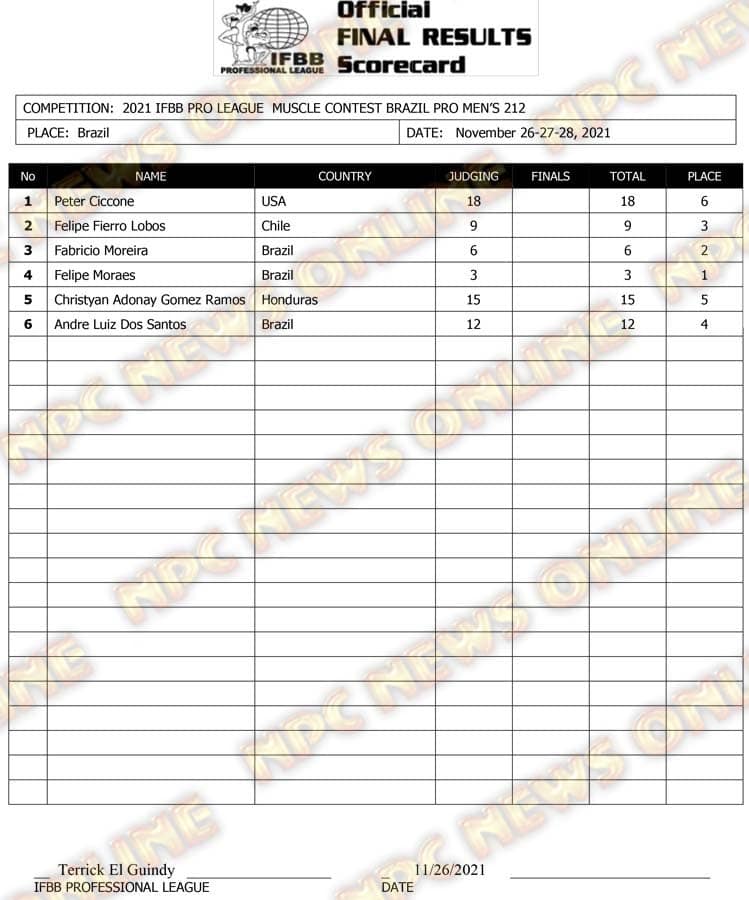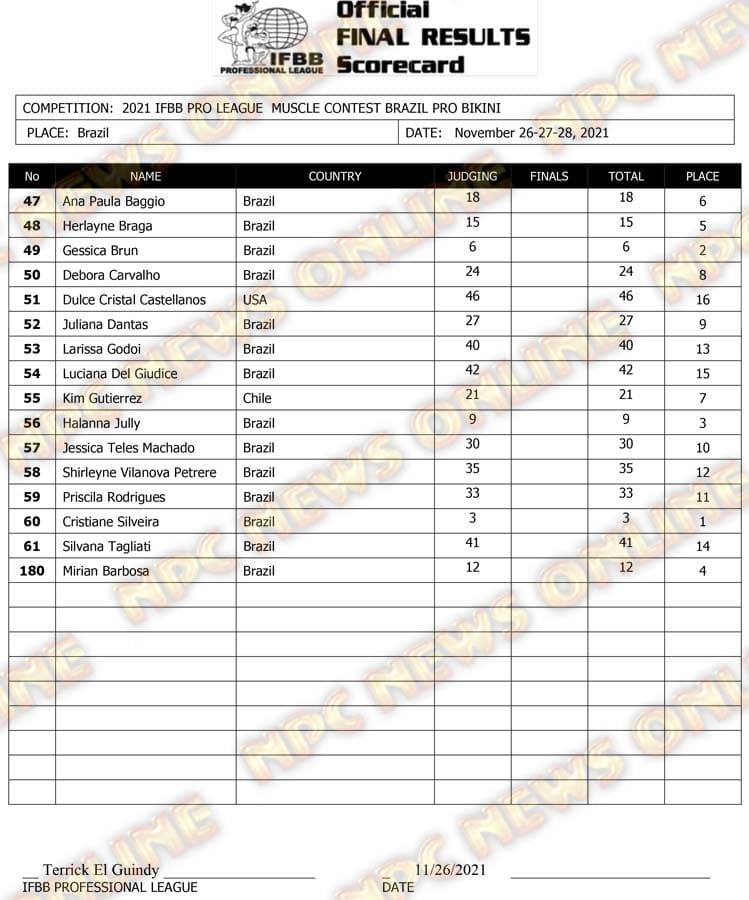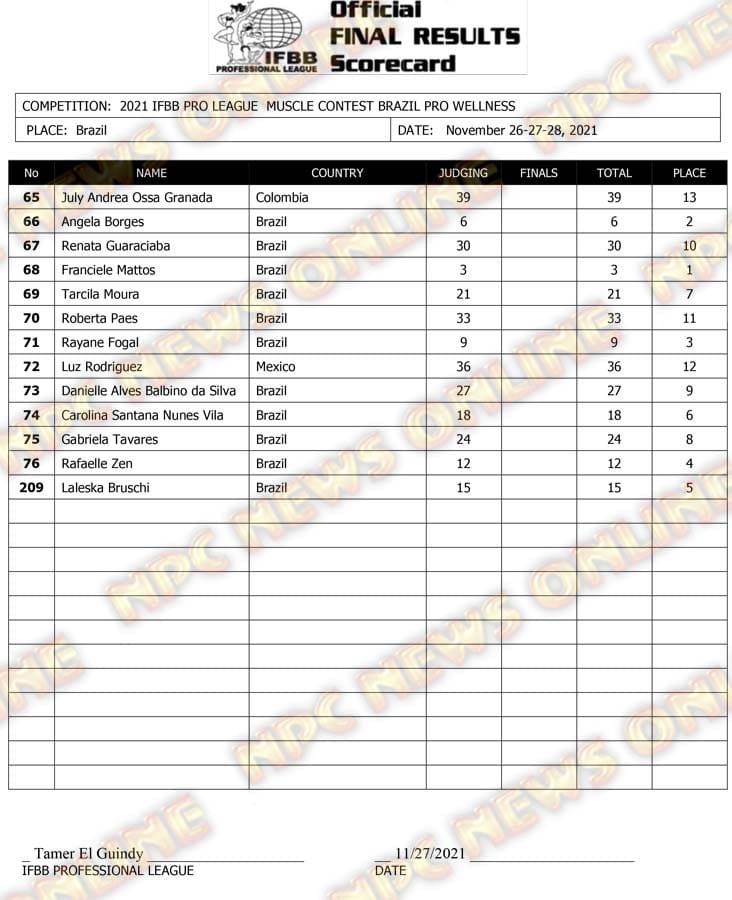 Generation Iron wishes to congratulate all the great athletes who earned a win at the 2021 Musclecontest Brazil Pro. Make sure to check out our full IFBB Pro results page from this year and previous years right here to catch up on any action you may have missed!